//CHECKING ANATOMY 101
Writing a check is still the most common way to use your money to buy stuff. If you've never written a check before, the whole thing might seem a bit confusing.

Don't worry, it's actually pretty easy. Follow the diagram below and you'll be an checking expert in no time: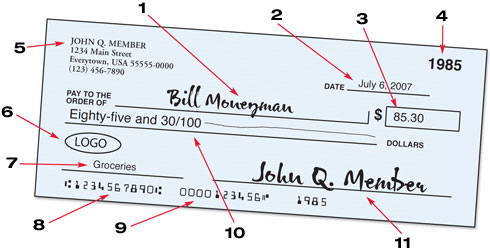 Write the name of the person or company you are paying.
Write the month, date and year.
Enter the dollar amount here.
The check number is used to identify the check.
Your name is pre-printed for I.D. purposes.
This identifies your financial institution.
The memo line can be used as an optional reminder.
The routing number identifies the financial institution of the account and directs funds from there.
Your account number.
Write out the dollar amount in words, starting as far to the left as possible. Fill in any remaining space with a line to prevent anyone from changing your amount.
Sign your name.

And that's what a check looks like.
Back to Opening A Checking Account Articles
AA Credit Union is a registered trademark of American Airlines, Inc. Federally insured by the NCUA.